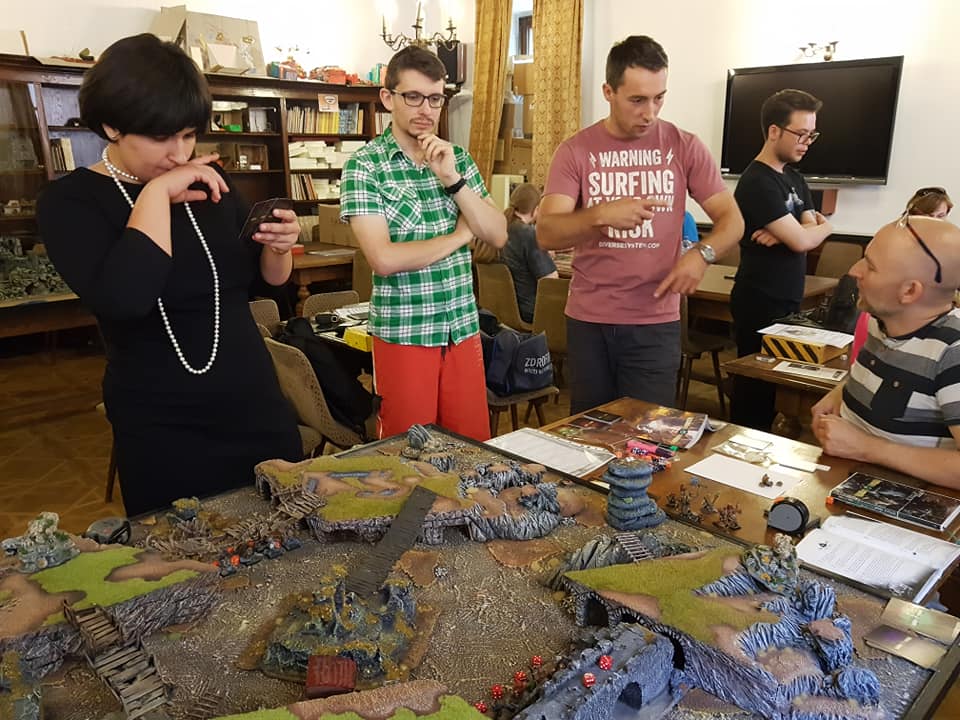 On Sunday, we visited Dębowa Tarcza Wargaming Club in Warsaw. We met many interesting people, we saw wonderful terrains and we played a skirmish in Umbra Turris. The Battle Square terrain card has been drawn, so we had one Loot. Halfling from the Pilgrims of Darkness party got there and, as a result of Loot Test, he came into possession of an interesting card. From that moment the fight was really fierce! Despite the quest with Vestal and Little Buddy, the skirmish ended spectacularly. Orc Headhunter performed the Precision Strike. As a result, he was able to deal a Critical Strike. The Headhunter's rule is that if he brings the enemy to 0 Wounds, the opponent must immediately perform the Panic Test. With two 1s Emissaries of Tykatrion couldn't make it. They ran far, far away, and the Pilgrims of Darkness celebrated until midnight. It was a great meeting, so we invite you to visit Dębowa Tarcza as well!
Klub Dębowa Tarcza
Staromiejski Dom Kultury
Rynek Starego Miasta 2
01-001 Warsaw
Poland
Their website: Dębowa Tarcza
---
W niedzielę odwiedziliśmy warszawski klub gier bitewnych Dębowa Tarcza. Poznaliśmy wiele ciekawych osób, zobaczyliśmy wspaniałe makiety i rozegraliśmy zażartą potyczkę w Umbra Turris. Wylosowała nam się karta terenu Bitewny Plac, więc mieliśmy jedno znalezisko. Niziołek z bandy Pielgrzymów Ciemności dotarł tam i drużyna weszła w posiadanie ciekawej karty. Dalej była już ostra walka. Pomimo questu z Westalką i Pupilem bitwa skończyła się spektakularnie. Ork Łowca Głów wykonał Atak Precyzyjny. W jego wyniku udało mu się zadać Cios Krytyczny. Zasada Łowcy Głów brzmi, że jeśli sprowadzi on wroga do 0 Witalności, przeciwnik musi natychmiast wykonać Test Paniki. Tego nie udało się Emisariuszom z Tykatrionu. Uciekali że hej, a Pielgrzymi Ciemności świętowali do północy. To było świetne spotkanie, dlatego zapraszamy i Was do odwiedzania Dębowej Tarczy!
Klub Dębowa Tarcza
Staromiejski Dom Kultury
Rynek Starego Miasta 2
01-001 Warszawa
Strona klubu: Dębowa Tarcza