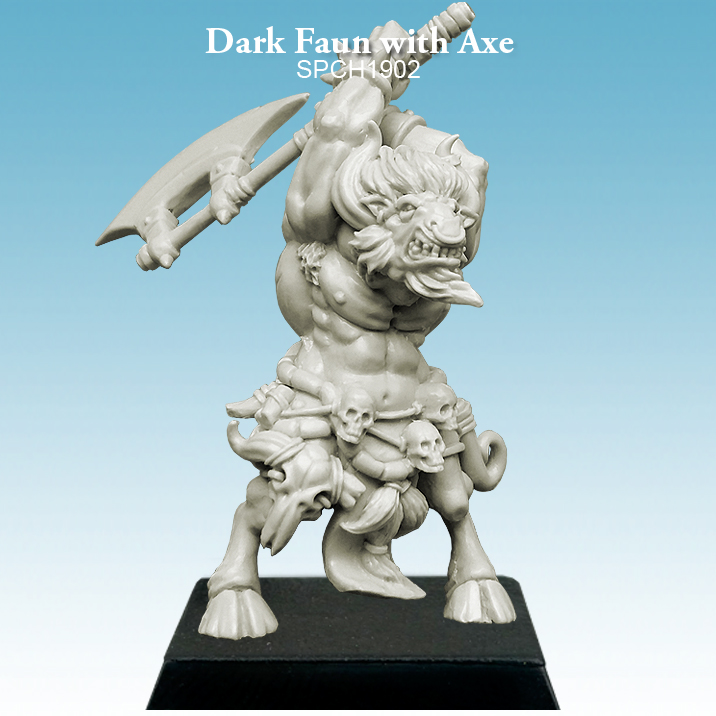 The next previously announced model of Dark Faun is out now! From today the previous versions of Half Giants and Dark Fauns are no longer available in our webstore, but you can purchase them by sending the Mail Order to this address: spellcrow@umbraturris.com. Please remember though, that the size of the previous, much smaller Dark Faun is compatible with the 2nd edition of Umbra Turris. In the latest 3rd edition Dark Fauns are a large race, that is why you can purchase the old model only through the Mail Order.
More new models of Dark Fauns and Half-giants at the beginning of 2020!
---
Kolejny wcześniej zapowiedziany model Mrocznego Fauna jest już dostępny! Od dziś poprzednie wersje Pół-gigantów i Mrocznych Faunów nie są już dostępne w naszym sklepie internetowym, ale możecie je zakupić, wysyłając do nas Mail Order na adres: spellcrow@umbraturris.com. Pamiętajcie jednak, że rozmiar poprzedniego, znacznie mniejszego Mrocznego Fauna jest kompatybilny wyłącznie z drugą edycją Umbra Turris. W najnowszej trzeciej edycji Mroczne Fauny stały się dużą rasą, dlatego też stary wzór jest dostępny wyłącznie przez zamówienie mailowe.
Więcej nowych modeli Mrocznych Faunów i Pół-gigantów już na początku 2020 roku!