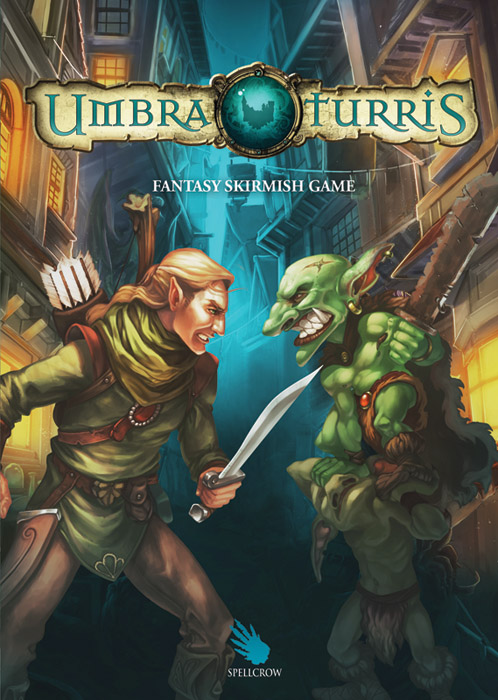 Too late for hope. Darkness is coming…"
The slightly revised new Umbra Turris rulebook in English will be available soon. Today we're showing you a new cover made by Nicolas Amoroso and Natalia Szrama. Tetyana Orlovska and Chaz Elliott worked on proofreading. Chaz's help was essential for the rulebook to be well received by foreign gamers. Despite previous announcements, it will remain black and white, as well as any supplements. With the release of the new rulebook version, comes out a new supplement: Haunted Moor. Work on the Polish version of the rules will begin after the English version is released. All language versions will be available in free PDFs and for sale in the hardcover.
---
"Ciemne chmury zbierają się nad miastem, skrywając w mroku jego wąskie uliczki. W oddali słychać pomruk burzy, któremu towarzyszy zrywający się wiatr – zimny i przenikliwy. Blask kaganków i świec pojawia się w wielu oknach, jakby miał odstraszać nadchodzącą ciemność, ale wielu wierzy, że nawet gorliwe modły nie zatrzymają tego, co spogląda na Prastare Krainy. Tworzą się kulty i sekretne stowarzyszenia, które w odmęcie szaleństwa pławią się we krwi i rozpuście. Inni składają śluby milczenia lub okaleczają się, by zbliżyć się do starych bogów, którzy zdają się się pogrążać we śnie.  Są i tacy, którzy nie zważają na nic. Wędrują w ciemnościach,  prowadzeni przez nieustające pragnienie walki i chwały. Kości ich bieleją w korytarzach podziemi, starożytnych świątyniach i tajemnych przejściach.  Jeszcze inni budują i zbierają przekonani, że za tarczą prawości lub bogactwa skryją się, by przetrwać i tym razem. Na próżno jednak to wszystko… 
Zbyt późno na nadzieję. Ciemność nadchodzi…"
Delikatnie poprawiony nowy podręcznik zasad do gry Umbra Turris w wersji angielskiej będzie dostępny już niebawem. Prezentujemy Wam nową okładkę wykonaną przez Nicolasa Amoroso oraz Natalię Szramę. Nad korektą tłumaczenia pracowała Tetyana Orlovska, zaś proof reading wykonał Chaz Elliott.  Pomoc Chaza była niezbędna, by podręcznik mógł być dobrze odebrany przez zagranicznych graczy.  Pomimo wcześniejszych zapowiedzi, pozostanie on czarno-biały, podobnie jak dodatki. Wraz z wypuszczeniem nowej wersji podręcznika wyjdzie dodatek: Nawiedzone Wrzosowisko (Haunted Moor). Prace nad polską wersją zasad rozpoczną się po ukazaniu wersji anglojęzycznej. Wszystkie wersje językowe będą dostępne w darmowej wersji PDF oraz w wersji drukowanej w twardej oprawie.