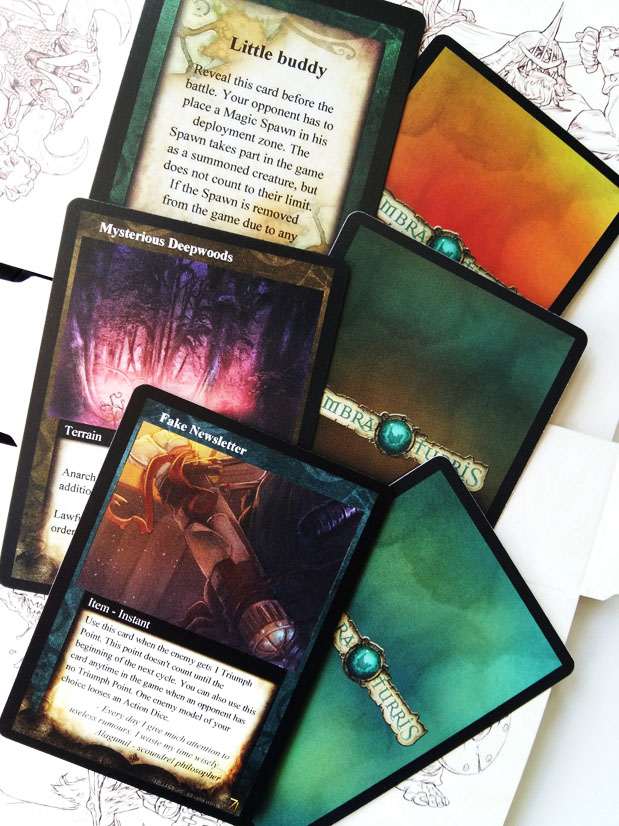 A new print of cards has just arrived! We 

boosted them a lot as shown in the picture.

The backs of the cards have been varied, and the appearance of the Quest cards has also changed significantly.

Now we're waiting for the packages, in which the card sets will be released. 

The sets are: Quest, Magic and Terrain.

 Except for cards

, in each of them you will find interesting supplements.

The Quest set contains additional Hidden and Death Counters.

The Magic set contains creatures from the cards: the Spawn of Magic and the Owl (cards: Stray and Owl of Autumne).

The Terrain set contains 6 Loot counters.

We are also preparing a new cards supplement – with new locations and magical items.

For now, card sets will be available only in English.
---
Właśnie dotarł do nas nowy dodruk kart. Przeszedł on lifting jak widać na zdjęciu. Tyły kart zostały zróżnicowane, a dodatkowo wyraźnie zmienił się wygląd kart typu Quest. Teraz czekamy na opakowania, w których będą zestawy kart.  Zestawy to: Quest, Magic i Terrain. Oprócz kart, w każdym z nich znajdziecie ciekawe dodatki. Zestaw Quest zawiera dodatkowo znaczniki Ukrycia i Śmierci. Zestaw Magic zawiera dodatkowo istoty z kart, czyli Pomiota Magii i Sowę (Przybłęda i Sowa z Autumne). Zestaw Terrain zawiera 6 znaczników znaleziska. Szykujemy także nowy dodatek z kartami – będą tam nowe tereny oraz magiczne przedmioty.  Póki co zestawy kart będą dostępne tylko w języku angielskim.