Northern Dwarves
They are tough, stubborn and ready to defeat every enemy that get in their way! Six resin miniatures of Northern Dwarves are the perfect party to learn how to play Umbra Turris.
---
Krasnoludy Północy
Są twarde, uparte i gotowe zniszczyć każdego wroga, który stanie na ich drodze! Sześć żywicznych figurek Krasnoludów Północy to świetna drużyna do nauki gry w Umbra Turris.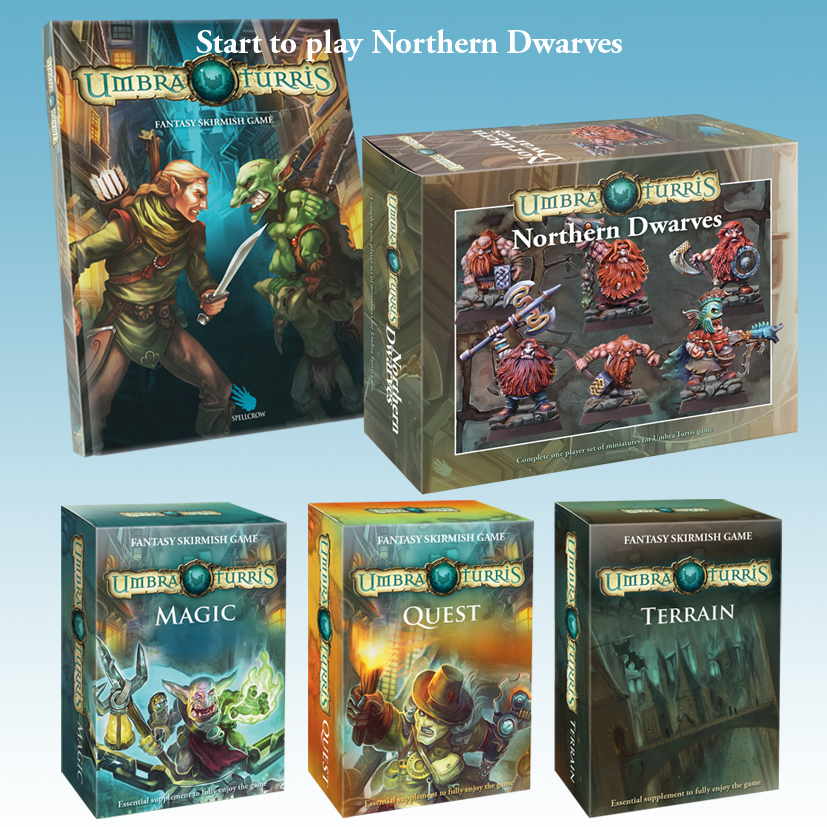 Start to play Northern Dwarves
This is the starter set for one player, who wants to play skirmishes in Umbra Turris game.  Northern Dwarves set is a great party to begin – they are  very strong and tough in close combat. Thanks to the rulebook you will create and thoroughly equip your party, and learn the rules of the game. Three card supplements hide special quests, magical items and game locations. In addition, you'll find two resin miniatures, Hidden Counters, Death Counters and Loot Counters.
---
Oto zestaw startowy dla jednego gracza, który chce rozpocząć potyczki w grze Umbra Turris.  Krasnoludy Północy to świetna drużyna na początek – są bardzo silne i twarde w walce wręcz. Dzięki podręcznikowi stworzysz oraz wyposażysz swoją drużynę, a także nauczysz się zasad gry i będziesz je miał zawsze pod ręką. Trzy dodatki karciane – Quest, Magic i Terrain – kryją specjalne misje, magiczne przedmioty i lokacje w grze. Dodatkowo, znajdziecie tam dwie żywiczne figurki powiązane z działaniem dwóch magicznych kart, Znaczniki Ukrycia, Znaczniki Śmierci oraz Znaczniki Znalezisk.