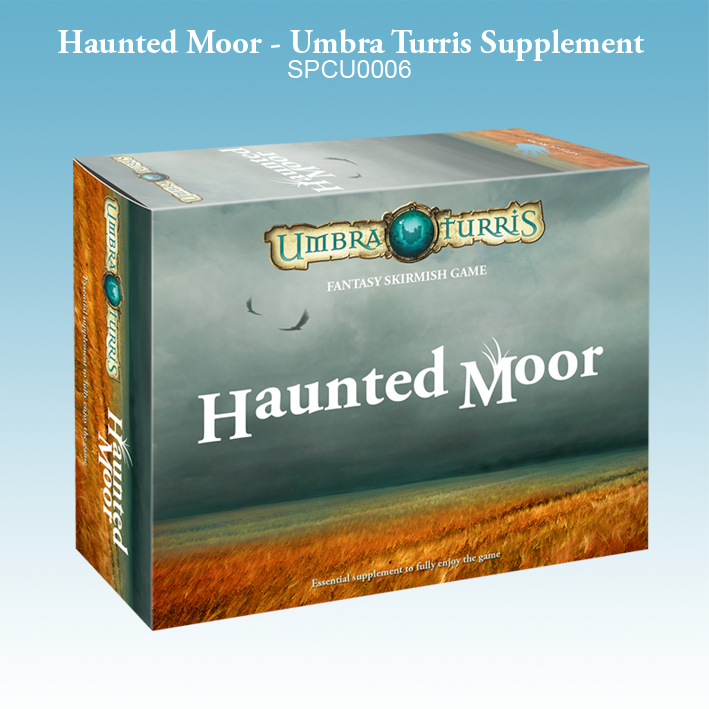 "If you survive the journey through the Illusive Wetlands, you will reach a quiet settlement lost in deadly silence. Its inhabitants may look at you with a blank stare, and you will probably shiver. Do not be afraid right now, the time will come… Welcome to Haunted Moor.
In the dreary songs of the old hags, Haunted Moor is a place where death becomes the gateway to a new life. Those who came there know that it is much worse…"
We present you another great supplement to Umbra Turris. What secrets hides this strange place, it will be easier for you to understand when you open this box.
Welcome to Haunted Moor!
Content:
4 cards (2 Terrain Cards and 2 Magical Items)
5 resin undead inhabitants of the Mossrel village
Brochure with the history of Haunted Moor and tactical tips!
---
"Jeśli przeżyjesz wędrówkę przez Zwodnicze Mokradła, dotrzesz do spokojnej osady, w której panuje śmiertelna cisza. Jej mieszkańcy będą wpatrywać się w ciebie pustym spojrzeniem a ty zapewne zadrżysz. Nie lękaj się jednak już teraz, na to jeszcze przyjdzie czas.
W ponurych pieśniach staruch, Haunted Moor to miejsce, w którym śmierć staje się bramą do nowego życia. Ci, którzy tam przybyli, wiedzą, że jest znacznie gorzej…"
Prezentujemy Wam kolejny dodatek do Umbra Turris.  Jakie sekrety skrywa to dziwne miejsce, będzie dla Was łatwiejsze do zrozumienia, gdy otworzycie to pudełko. 
Witajcie w Haunted Moor!
Zawartość:
4 karty (2 karty Terenów i 2 Magicznych Przedmiotów)
5 żywicznych figurek nieumarłych mieszkańców wioski Mossrel
Broszura z historią Haunted Moor i taktyczne porady